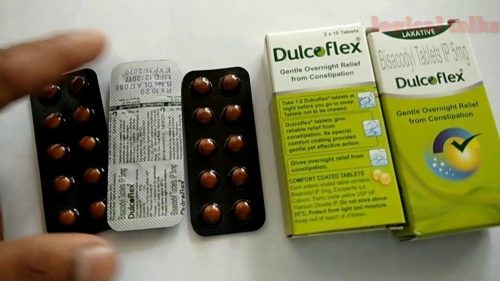 Uses
Bisacodyl is used to treat constipation. It may also be used to clean out the intestines before a bowel examination/surgery. Bisacodyl is known as a stimulant laxative. It works by increasing the movement of the intestines, helping the stool to come out.
How to use Dulcolax
Take this medication by mouth as directed by your doctor. If you are self-treating, follow all directions on the product package. If you have any questions, ask your doctor or pharmacist.
Swallow this medication whole. Do not crush, chew, or break the tablet or take it within 1 hour of antacids, milk, or milk products. Doing so can destroy the coating on the tablet and may increase the risk of stomach upset and nausea.
Dosage is based on your age, medical condition, and response to treatment. Do not increase your dose or take this drug more often than directed. Do not take this medication for more than 7 days unless directed by your doctor. Serious side effects may occur with overuse of this medication (see also Side Effects section).
It may take 6 to 12 hours before this medication causes a bowel movement. Tell your doctor if your condition lasts or gets worse, or if bleeding from the rectum occurs. If you think you may have a serious medical problem, seek immediate medical attention.
Side Effects
Stomach/abdominal pain or cramping, nausea, diarrhea, or weakness may occur. If any of these effects last or get worse, tell your doctor or pharmacist promptly.
If your doctor has directed you to use this medication, remember that your doctor has judged that the benefit to you is greater than the risk of side effects. Many people using this medication do not have serious side effects.
Tell your doctor right away if you have any serious side effects, including: nausea/vomiting/diarrhea that doesn't go away, muscle cramps/weakness, irregular heartbeat, dizziness, fainting, decreased urination, mental/mood changes (such as confusion).
A very serious allergic reaction to this drug is rare. However, get medical help right away if you notice any symptoms of a serious allergic reaction, including: rash, itching/swelling (especially of the face/tongue/throat), severe dizziness, trouble breathing.
This is not a complete list of possible side effects. If you notice other effects not listed above, contact your doctor or pharmacist.
Generic name: bisacodyl (oral and rectal) [ bis-AK-oh-dil ]
Brand names: Alophen, Bisac-Evac, Bisco-Lax, Carters Little Pills, Correctol,
Dosage forms: oral delayed release tablet (5 mg); rectal enema (10 mg); rectal suppository (10 mg)
Drug class: Laxatives
JPeei Pharmacy