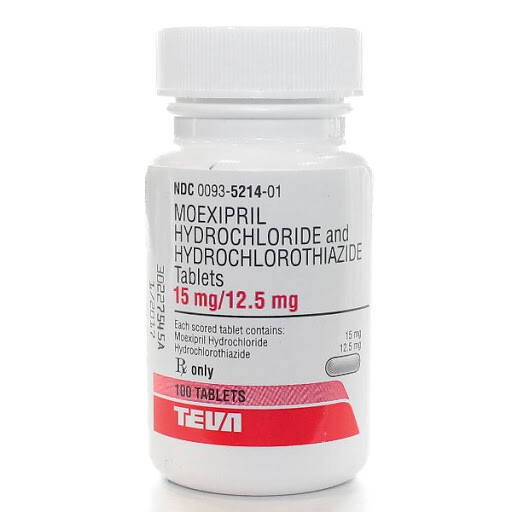 What is moexipril and its side effects?
Moexipril is an ACE inhibitor. ACE stands for angiotensin converting enzyme.
Moexipril is used to treat high blood pressure (hypertension).
Moexipril may also be used for purposes not listed in this medication guide.
Warnings
Do not use if you are pregnant. If you become pregnant, stop taking moexipril and tell your doctor right away.
If you have diabetes, do not use moexipril together with any medication that contains aliskiren (Amturnide, Tekturna, Tekamlo).
Before taking this medicine
You should not use this medication if you are allergic to moexipril or similar medications--benazepril, captopril, enalapril, fosinopril, lisinopril, perindopril, quinapril, ramipril, or trandolapril.
If you have diabetes, do not use moexipril together with any medication that contains aliskiren (Amturnide, Tekturna, Tekamlo).
You may also need to avoid taking moexipril with aliskiren if you have kidney disease.
To make sure moexipril is safe for you, tell your doctor if you have:
kidney disease (or if you are on dialysis);

liver disease;

heart disease or congestive heart failure;

if you are on a low-salt diet; or

a connective tissue disease such as Marfan syndrome, Sjogren's syndrome, lupus, scleroderma, or rheumatoid arthritis.
Do not use if you are pregnant. If you become pregnant, stop taking this medicine and tell your doctor right away. Moexipril can cause injury or death to the unborn baby if you take the medicine during your second or third trimester.
It is not known whether moexipril passes into breast milk or if it could harm a nursing baby. Tell your doctor if you are breast-feeding a baby.
How should I take moexipril?
Follow all directions on your prescription label. Your doctor may occasionally change your dose. Do not take moexipril in larger or smaller amounts or for longer than recommended.
Moexipril is usually taken 1 hour before meals.
Call your doctor if you have ongoing vomiting or diarrhea, or if you are sweating more than usual. You can easily become dehydrated while taking moexipril. This can lead to very low blood pressure, electrolyte disorders, or kidney failure.
While using moexipril, you may need frequent blood tests at your doctor's office. Your blood pressure will need to be checked often.
If you need surgery, tell the surgeon ahead of time that you are using moexipril. You may need to stop using the medicine for a short time.
If you are being treated for high blood pressure, keep using this medication even if you feel well. High blood pressure often has no symptoms. You may need to use blood pressure medication for the rest of your life.
Store at room temperature away from moisture and heat.
What happens if I miss a dose?
Take the missed dose as soon as you remember. Skip the missed dose if it is almost time for your next scheduled dose. Do not take extra medicine to make up the missed dose.
What happens if I overdose?
Seek emergency medical attention or call the Poison Help line at 1-800-222-1222.
What should I avoid while taking moexipril?
Do not use salt substitutes or potassium supplements while taking moexipril, unless your doctor has told you to.
Avoid getting up too fast from a sitting or lying position, or you may feel dizzy. Get up slowly and steady yourself to prevent a fall.
Moexipril side effects
Get emergency medical help if you have signs of an allergic reaction: hives; severe stomach pain; difficulty breathing; swelling of your face, lips, tongue, or throat.
Moexipril may cause serious side effects. Call your doctor at once if you have:
a light-headed feeling, like you might pass out;

sudden weakness or ill feeling, fever, chills, sore throat, painful mouth sores, cough, trouble breathing;

little or no urinating; or

high potassium--nausea, slow or unusual heart rate, weakness, loss of movement.
Common side effects of moexipril may include:
cough, runny or stuffy nose;

headache, dizziness, tired feeling;

increased urination;

diarrhea;

muscle pain; or

mild skin itching or rash.
This is not a complete list of side effects and others may occur. Call your doctor for medical advice about side effects. You may report side effects to FDA at 1-800-FDA-1088. Moexipril side effects (more detail)
Moexipril dosing information
Usual Adult Dose for Hypertension:
Initial dose:
-Patients not receiving diuretic therapy: 7.5 mg orally once a day 1 hour before meals
-Patients receiving diuretic therapy: 3.75 mg orally once a day 1 hour before meals

Maintenance dose: 7.5 to 30 mg orally per day in 1 or 2 divided doses 1 hour before meals.

Maximum dose: 60 mg/day

Comments:
-Diuretic therapy should be discontinued, if possible, 2 to 3 days before starting this drug. If blood pressure remains uncontrolled with this drug alone, diuretic therapy may be restarted. If diuretic therapy cannot be discontinued, initiate this drug at a lower dose.
-Total daily doses above 60 mg have not been studied in hypertensive patients.
-The antihypertensive effect of this drug may diminish toward the end of the dosing interval. Therefore, measure blood pressure just prior to dosing. Detailed Moexipril dosage information
What other drugs will affect moexipril?
Tell your doctor about all your current medicines and any you start or stop using, especially:
lithium;

a blood thinner such as warfarin, Coumadin; or

a diuretic or "water pill";

gold injections to treat arthritis;

NSAIDs (nonsteroidal anti-inflammatory drugs)--aspirin, ibuprofen (Advil, Motrin), naproxen (Aleve), celecoxib, diclofenac, indomethacin, meloxicam, and others;

a potassium supplement such as K-Dur, Klor-Con; or

salt substitutes that contain potassium.
This list is not complete. Other drugs may interact with moexipril, including prescription and over-the-counter medicines, vitamins, and herbal products. Not all possible interactions are listed in this medication guide.
Important information about Moexipril
Generic name: moexipril [ moe-EX-i-pril ]
Brand name: Univasc
Dosage form: oral tablet (15 mg; 7.5 mg)
Drug class: Angiotensin Converting Enzyme Inhibitors
Drugs Side Effects 101