WHAT IS PODOPHYLLIN AND HOW DOES IT WORK?
Podophyllin is a prescription medication used to treat genital and anal warts in adults. Is belongs to a drug class called Keratolytic Agents
Podophyllin is available under various brand names: Podocon-25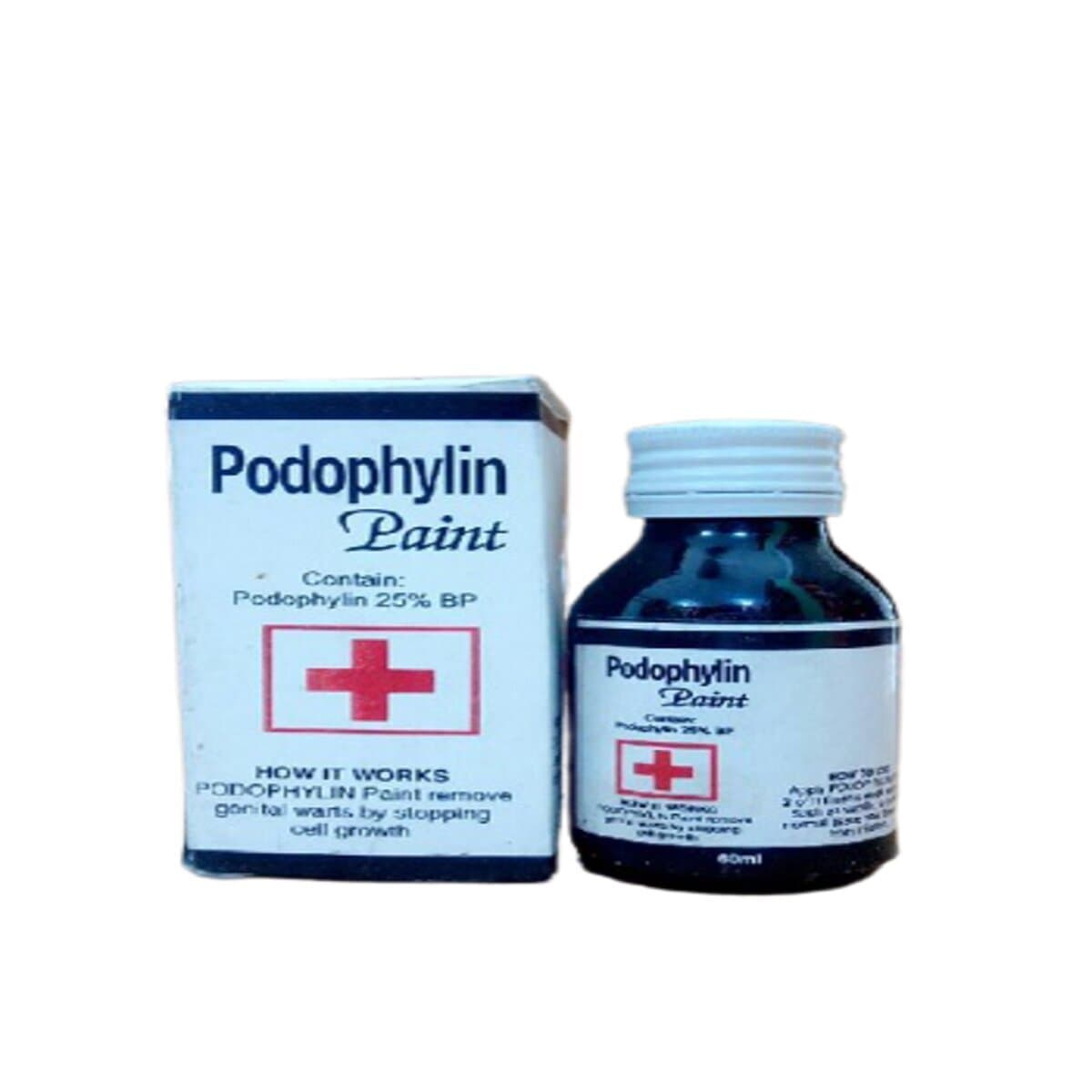 WHAT ARE SIDE EFFECTS ASSOCIATED WITH USING PODOPHYLLIN?
Common side effects of Podophyllin include:
swelling, redness, or tenderness of treated skin;

itching; or

burning pain.
Serious side effects of Podophyllin include:
hives,

difficulty breathing,

swelling of the face, lips, tongue, or throat,

severe burning,

stinging,

irritation,

change in the mental state, confusion, agitation, seizure (convulsions), loss of consciousness;

drowsiness or a light-headed feeling;

weak or shallow breathing;

severe constipation, little or no urination;

weakness, numbness, tingling in the arms or legs;

easy bruising or bleeding (nosebleeds, bleeding gums), bloody or tarry stools, coughing up blood or vomit that looks like coffee grounds;

upper stomach pain, loss of appetite; or

chest pain, pounding heartbeats or fluttering in the chest, shortness of breath.
Rare side effects of Podophyllin include:
Seek medical care or call 911 at once if you have the following serious side effects:
Severe headache, confusion, slurred speech, arm or leg weakness, trouble walking, loss of coordination, feeling unsteady, very stiff muscles, high fever, profuse sweating, or tremors;

Serious eye symptoms such as sudden vision loss, blurred vision, tunnel vision, eye pain or swelling, or seeing halos around lights;

Serious heart symptoms include fast, irregular, or pounding heartbeats; fluttering in the chest; shortness of breath; sudden dizziness, lightheartedness, or passing out.
This is not a complete list of side effects and other serious side effects or health problems that may occur because of the use of this drug. Call your doctor for medical advice about serious side effects or adverse reactions. You may report side effects or health problems to FDA at 1-800-FDA-1088.
WHAT ARE DOSAGES OF PODOPHYLLIN?
Adult and pediatric dosage
Topical cream
Adult and pediatric dosage

Podophyllum should not be used for self-treatment. Covering too much skin with podophyllum or applying it to broken skin increases the chance of getting poisoned. It's safer to use podophyllotoxin (one of the chemicals in podophyllum).

For genital warts caused by the human papilloma virus (HPV): A 0.5% podophyllotoxin gel is applied twice daily for three days in a row and repeated for two to four cycles. Podophyllotoxin is a chemical taken from podophyllum. Podophyllotoxin (podofilox, Condylox) is an FDA-approved drug. Podophyllotoxin might be more effective than podophyllum and is less toxic.
Dosage Considerations – Should be Given as Follows:
WHAT OTHER DRUGS INTERACT WITH PODOPHYLLIN?
If your medical doctor is using this medicine to treat your pain, your doctor or pharmacist may already be aware of any possible drug interactions and may be monitoring you for them. Do not start, stop, or change the dosage of any medicine before checking with your doctor, health care provider, or pharmacist first
Podophyllin has no noted severe interactions with any other drugs.

Podophyllin has no noted serious interactions with any other drugs.

Podophyllin has no noted moderate interactions with any other drugs.

Podophyllin has no noted minor interactions with any other drugs.
This information does not contain all possible interactions or adverse effects. Visit the RxList Drug Interaction Checker for any drug interactions. Therefore, before using this product, tell your doctor or pharmacist about all your products. Keep a list of all your medications with you and share this information with your doctor and pharmacist. Check with your health care professional or doctor for additional medical advice, or if you have health questions or concerns.
WHAT ARE WARNINGS AND PRECAUTIONS FOR PODOPHYLLIN?
Contraindications
Diabetes;

Circulation problems;

if you are using steroid medicine; or

if you are pregnant or breastfeeding.
Effects of drug abuse
Short-Term Effects
See "What Are Side Effects Associated with Using Podophyllin?"
Long-Term Effects
See "What Are Side Effects Associated with Using Podophyllin?"
Cautions
Podophyllin is a powerful caustic and severe irritant. Keep away from the eyes; if eye contact occurs, flush with copious amounts of warm water and consult a physician or poison control center immediately for advice.

Do not use podophyllin if the wart or surrounding tissue is inflamed or irritated. Do not use on bleeding warts, moles, birthmarks, or unusual warts with hair growing from them.

Podophyllum resin topical can cause severe irritation. If this medicine gets in your eyes, rinse with plenty of water and call your doctor right away.

Avoid getting this medicine in your eyes, nose, mouth, rectum, vagina, or urethra.

Avoid allowing healthy skin to come into contact with a genital wart. Always wash your hands after touching a genital wart or applying for this medicine.

Using podophyllum resin topical will not prevent you from passing genital or anal warts to another person during skin-to-skin contact or sexual intercourse. Talk with your doctor about safe ways to prevent the transmission of genital warts during sex.
Pregnancy & Lactation
Podophyllum resin topical can cause birth defects. Do not use it if you are pregnant.
Lactation
You should not breastfeed while using this medicine.